Brand New in Retail Box
Pocket Size
USB 2.0 Memory Card Reader & Writer
+
3-Port USB 2.0 HUB
Combo
For PC and MAC
USB Cable Included
40x faster than USB 1.1
Full Speed up to 480MB/Sec
Silver Color
1 Year Warranty
Part#: GP-CRH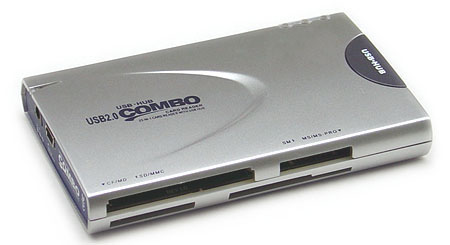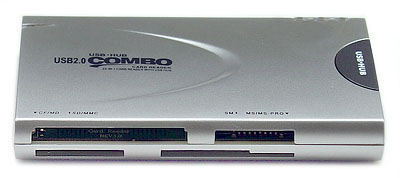 Only 114mmx 65mm x 17mm
USB Flash Memory Card Reader is designed to bridge between computer and Digital Cameras, Personal Digital assistants (PDA), Personal Organizers, Voice recorders, MP3 Players or other mobile electronic products using Flash Cards as standard or extended data storage media. USB Flash Memory Card Reader operates as a removable drive which allows you to download digital images and data instantly and easily to your computer.

Supports:
CompactFlash Type I (CF-I)
CompactFlash Type II (CF-II)
Extreme CompactFlash
Extreme III CompactFlash
Ultra II CompactFlash
High Speed CompactFlash
XS- Xtreme Speed CompactFlash
CompactFlash Elite Pro
IBM MicroDrive
Hitachi MicroDrive
MagicStor
Compact Flash PRO
CF PRO II
C-Flash
SmartMedia Card (SMC)
TransFlash Memory (adapter required)
Memory Stick (MS)
Memory Stick PRO (MS-PRO)
Memory Stick Duo (MS-DUO)
Memory Stick PRO Duo (MS-PRO DUO)
Memory Stick MagicGate
High Speed Memory Stick PRO
High Speed Memory Stick PRO Duo
Memory Stick MagicGate PRO
Memory Stick MagicGate Duo
Memory Stick MagicGate PRO Duo
High Speed Memory Stick MagicGate PRO
High Speed Memory Stick MagicGate PRO Duo
Memory Stick Rom
Memory Stick Select
Extreme Memory Stick PRO
Extreme III Memory Stick PRO
Ultra II Memory Stick PRO
Secure Digital (SD)
MiniSD
microSD (adapter required)
Extreme Secure Digital
Extreme III Secure Digital
Ultra II Secure Digital
Secure Digital Elite Pro
MultiMediaCard (MMC)
HS SD (HIGH SPEED)
MultiMediaCard 4.0
DV Reduced Size MultiMediaCard
High Speed Reduced Size MultiMediaCard
Reduced Size MultiMediaCard (RS MMC)
Reduced Size MultiMediaCard 4.0 (RS MMC 4.0)
Hi-Speed Mini SD
SD-Ultra-X
Ultra speed SD
SD PRO
High Speed MultiMediaCard
SmartMedia ROM
xD Picture Card
Features:
Support Window 98SE/ME/2000/XP/Vista. MAC OS 9.0 or above. ME and XP plug and read, no installation needed.
3 Ports USB 2.0 Hub
Fully compatible with USB 1.1
Internal EPROM, provides high versatility
Power: DC + 5 Volts supplied by USB port.
Indicators: One power-on indicator.
Draws power directly from USB port without need for auxiliary power sources (batteries or AC/DC adapter).
USB connection featuring true plug and play
View and edit pictures directly on the reader
Easy to install and use
Specifically designed for digital cameras and also ideally for using with Palmtop PCs, Handheld PCs, PDAs, Voice Recorders, MP3 Players and other mobile electronics using Flash Cards as standard or extended storage media.
Hot-swappable supported, compliant to USB spec. 1.1 with high speed Low Power Consumption, Suitable for Desktop and Notebook PC
High transfer rate with USB 2.0 interface: Full speed up to 480M bits per second.
FCC Class B and CE certified
Dimension: Only 114mmx 65mm x 17mm Super Compact
Weight: 45g
Package contents
4-Slot USB 2.0 Card 33in1 Reader/Writer w/3-port USB2.0 Hub
Quick Start Guide
USB cable (1.8')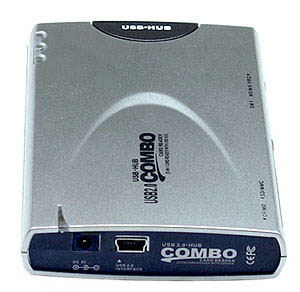 System requirements:
One available USB port
Windows 98SE, Windows Me and Windows 2000, XP, Vista, MAC OS 10.1.2 (You don't need to install any driver if your computer's OS is Windows ME or XP, Vista or Mac OS 10.1.2 or later)
One available CD-ROM drive
16MB RAM
Warranty: 1 year warranty.