Brand New
Powerlink GM5
Wireless 802.11b/g/n 1W High Power USB 2.0 Adapter w/Turbo Booster*
w/28dBm w/High Gain 5dBi Dipole Antenna

Improving 3X Signal Reception and 10xSpeed
GM5 Utilities Included

Made in Taiwan
Model: GM5
Part#: PL-GM5
*Turbo Booster: The Turbo Booster works only with GM5. Please download FREE Turbo Booster here
What is the Turbo Booster? (PDF)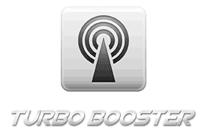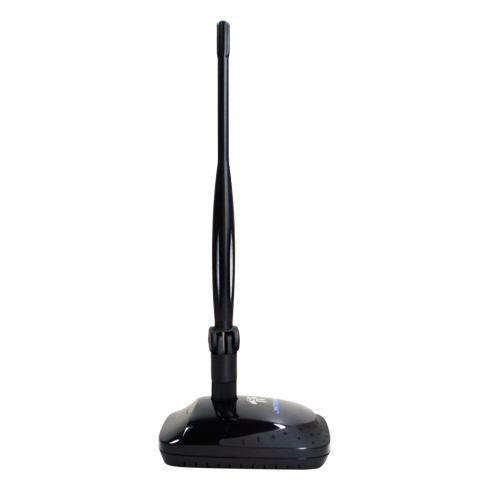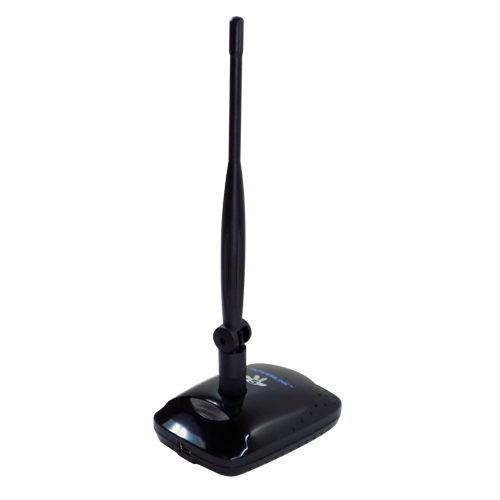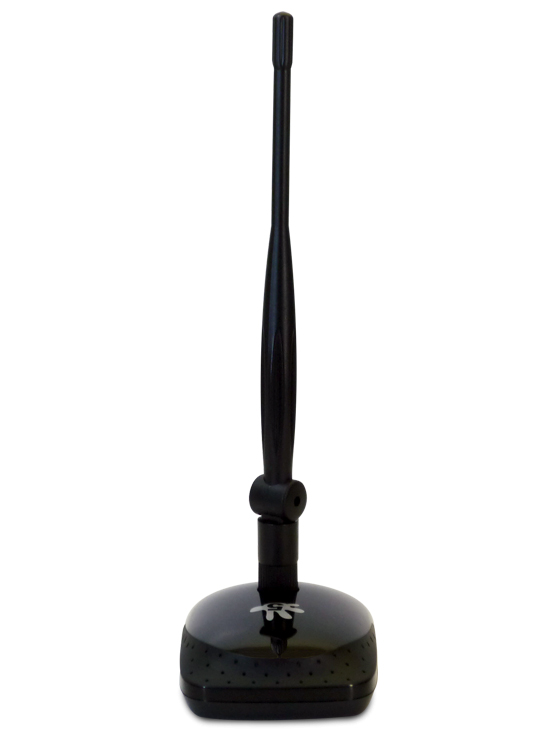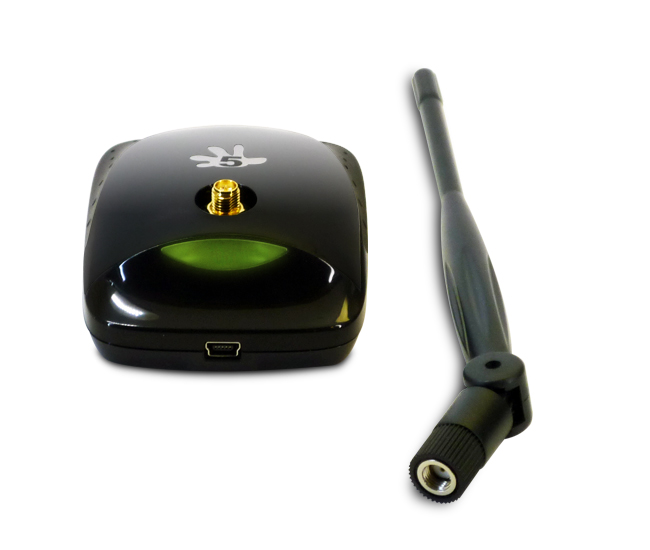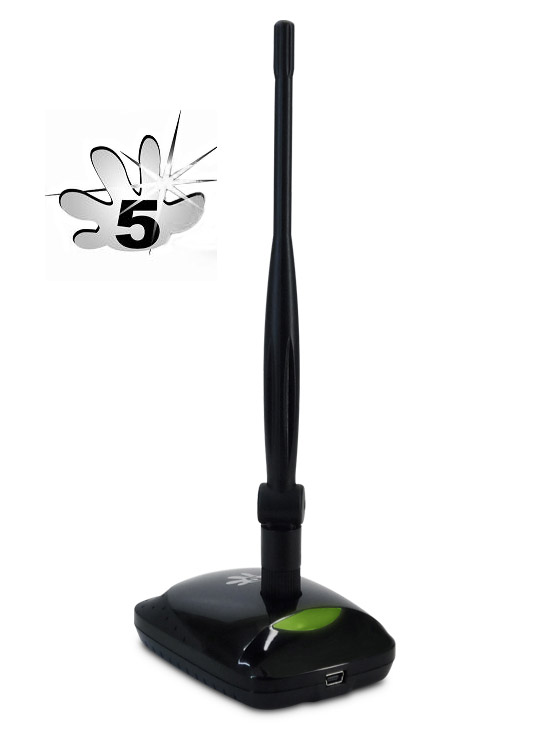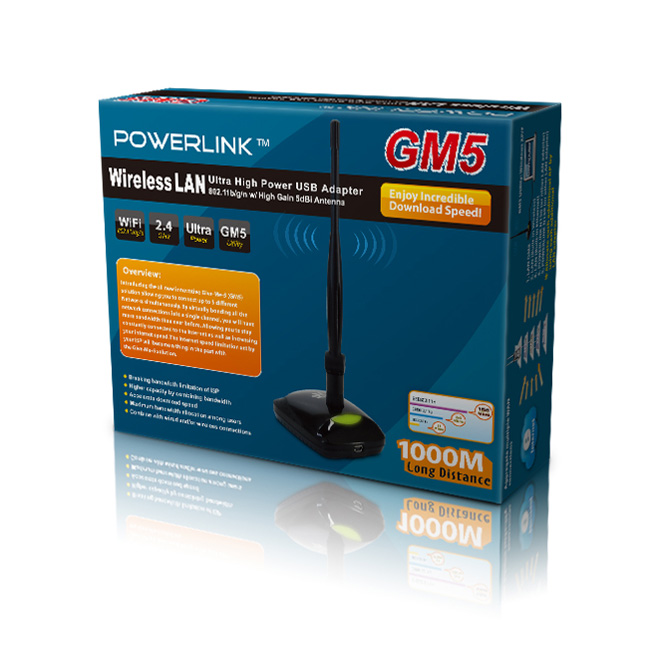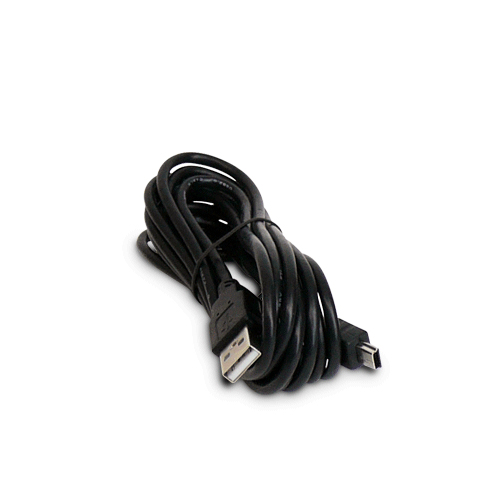 Overview:
Introducing the all new innovative Powerlink Give-Me-5 (GM5) solution allowing you to connect up to 5 different Networks simultaneously. By virtually bonding all the network connections into a single channel, you will have more bandwidth than ever before. Allowing you to stay constantly connected to the internet as well as increasing your internet speed. The internet speed limitation set by your ISP will become a thing in the past with the Give-Me-5 solution.
Features:
Aggregate multiple WAN connections using GM5 utility

Breaking bandwidth limitation of ISP

Higher capacity by combining multiple bandwidth

Accelerate download speed

Maximum bandwidth allocation among users

Combine with wired and/or wireless connections

Ensure a continuous connection

Supports BT4
Specification:
GM5 software utility included. Compatible with XP and 7 (Vista not supported)

Each additional LAN/WLAN adapter required to combine each additional bandwidth by using GM5.

Chipset: Ralink RT3070

Standard: IEEE 802.11b/g/n

Interface: USB 2.0 and 1.1 compliant

Antenna Type: RP-SMA 5dBi dipole antenna

Transmitter Power:

802.11b: 28 ▒ 1.5dBm

802.11g: 23 ▒ 1.5dBm

802.11n: 23 ▒ 1.5dBm

Power consumption: Transmit<600mA. Receive<400mA

Operating Range: Up to 1000 meters (Depending on surrounding environment)

Frequency: 2.412~2.484GHz.

Modulation Method: IEEE 802.11b: DBPSK / DQPSK / CCK. IEEE 802.11g: BPSK / QPSK/ 16QAM / 64QAM

Data Transfer Rate: 802.11b: 1, 2, 5.5, 11Mbps. 802.11g: 6, 9, 12, 18, 24, 36, 48, 54Mbps. 802.11n: up to 150Mbps

Security: WEP (64/128bit). WPA, WPA-PSK, WPA2, WPA2-PSK, TKIP/AES

Operating Channel: Channel 1~11 (U.S. and Canada). Channel 1~13 (Europe and other regions)

FCC RoHS compliant

Dimension:

Antenna length: 191mm

USB Adapter: 85mm x 62mm x 32mm

USB Cable: 150cm (1.5 meters or 5 ft)
Package Content:
Wireless LAN USB Adapter

High Gain 5dBi Dipole Antenna

5ft USB Extension Cable

Driver/Manual CD w/GM5 Utility

Bonus i-Smith Software

Bonus Turbo Booster (Available under Support tab, #12.
Operating System:
Win XP/Vista 32/64-bit/7 (GM5 supports XP and 7 only)

Linux Kernel 2.6.6 and after (Supports BackTrack 4)
Warranty: 1 year
Shipping details:
Part#
Carton Qty/Weight (lbs)
Shipping Weight (lbs.)
UPC Code
Package Dimension
(L x W x H)
Carton Dimension
(L x W x H)
PL-GM5
40 / 23.35
0.56
813538011611
8" x 6" x 2.2"
56 x 44 x 33 cm
22" x 17.33" x 13"